our business

powering human progress takes energy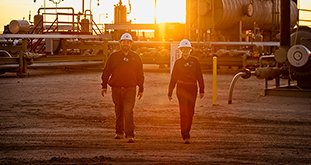 It's only human to want a better life, and we need reliable, affordable and ever-cleaner energy to get there. To provide this energy, we believe in the power of human ingenuity to lead us to a brighter future.
In Colorado, Chevron continuously pursues innovations that improve our environmental performance across our operations. This includes focus on protecting land, water and wildlife habitats as well as minimizing potential disruptions to nearby communities.
We are now using comprehensive plans for new oil and natural gas development in rural Colorado where we have large acreage positions and can strategically combine facility locations with innovative processes and the latest technology to reduce our surface footprint and impacts.
Our current development is in two core areas: Wells Ranch and Mustang.